1.- Have a Flexible schedule and follow the locals on instagram
Every season is different, that simple! That epic powder that your friends ski in Chile a few seasons ago could be all over the andes or just in some areas. The storms could be hitting another latitudes and a good way to be where the conditions are good is having a flexible schedule to chase the storms.
How to decide where to go? Well, start by following @thelocalskier on instagram and check the updates from local guides and riders who share their winter activity.
2.-Buy bus tickets in advance
This website and all the articles in it are written for skiers on all range of budgets so if you want to save some money, buses are a great option.
Chile is a long country with a main highway called "Ruta 5" which is the main route to travel by each region before heading East towards the mountains and luckily some bus operators even have routes to the main mountain towns.
As of 2020 the best way to compare prices of more than 30 bus operators is a website called recorrido.cl (Also available in its app version).

However, there are many operators so prices can vary quite a bit, make sure to try different dates and classes. There are 3 main class types depending on the comfort of the seat: Semi-Cama (basic seat), Cama (better recline and foot rest than Semi-Cama) and finally Cama Premium (seats lie flat and commonly have a curtain for more privacy from the seat next to you). The majority of buses are double decker and usually the lower level has cama or cama premium while upstairs has semi-cama.
Pros:
– Cheap ways to move around and also view the stunning landscapes of Chile from your window seat
Cons:
– Most of the time you will have to change buses at a local bus station before heading to your final destination.
– You have to keep an eye on your ski bags and move around with that weight specially when using cabs could be a challenge but totally doable.
3.- contact local guides for adventure programs
The professionals checking the snowpack on a weekly basis, finding powder, documenting the fallen snow throughout the season are the local guides in each region. There are many local guides and agencies that form together a diverse ecosystem with different focuses, some are more into ski touring, ski mountaineering or just mountaineering, some of them specialize in the main routes while others are more into the exploration of new zones in winter providing that extra flavour to their experience. No matter what's your ability, there is going to be a guide available to reach that summit that you and your party want to ski so make sure to research well and get in contact before your trip.
4.- Selling your gear? post your skis/splitboard 2-3 weeks before your departure
The chilean skiing gear market is very expensive and also not so diverse as in North America and Europe.
If you are planning on changing your gear for next season this might be a good time to sell it and at the same time save the extra baggage fee when you are returning home.
There are a few groups on facebook that you can use to post your gear at a competitive price, the most used by chileans is Rando-Split Touring.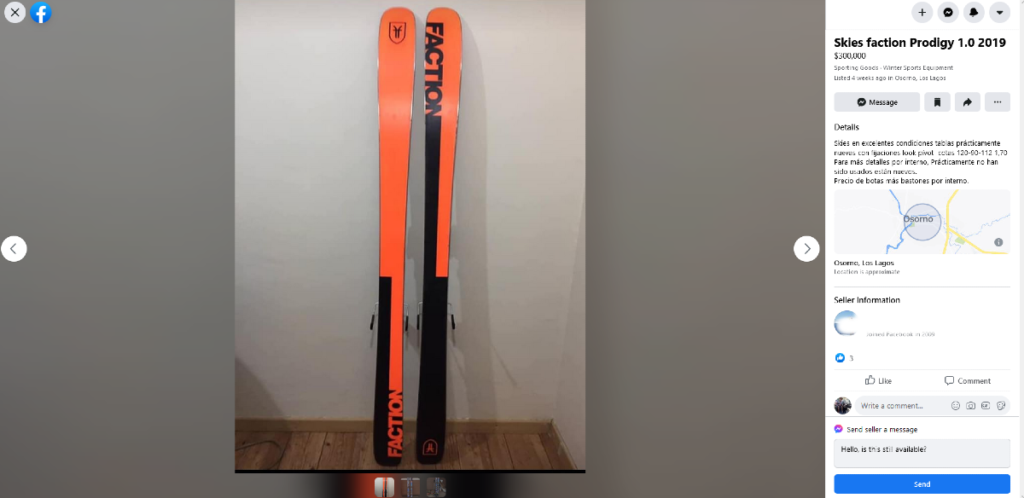 The backcountry skiing culture is growing at an exponential rate in Chile, this is not going to stop and luckily for you the chilean backcountry skiers and splitboarders speak good english in general so making friends should not be so difficult even if your spanish is rusty or almost non existent.
Make friends, have a good chat and get to know the culture by the hand of the people making it, whenever you return to this great country you will have more partners to venture in the mountains and make this community a better one where we are all connected with the single objective of having a blast in the mountains.