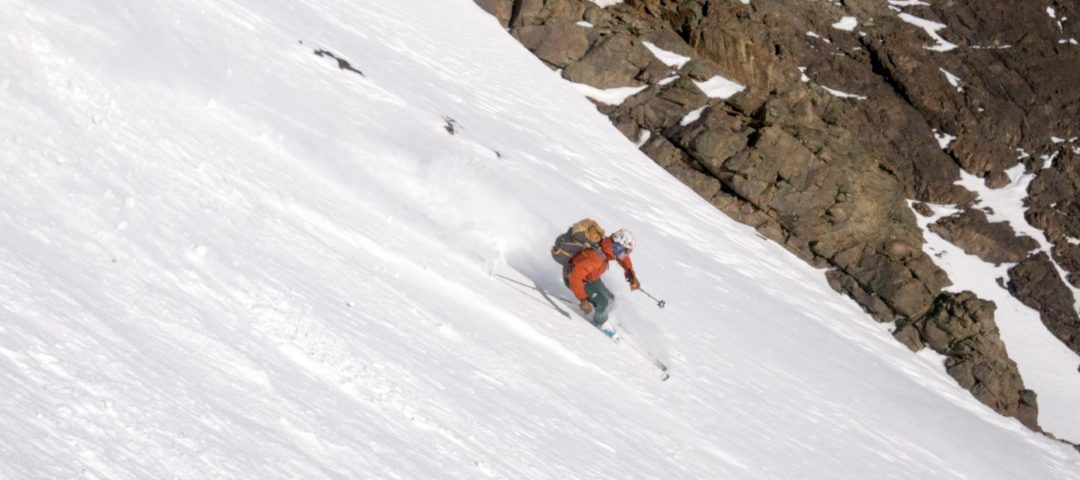 Valle De Las Arenas, Cajón Del Maipo.
S -33.780807, W -70.022725
A perennial classic of the Maipo area, with amazing views of Cerro Morado

The Enlace is one of the most spectacular tours of the Valle de las Arenas. The long tour through the cajón de las Arenas brings amazing views of the cerro Arenas, Placas, and from the top, Morado and Morado Sur.

This is a pretty straight forward tour: just head up the valley that begins at top of the "centro de esquí" until you reach a flat bowl. This is a very windy tour, so plan on bringing warm clothing and snacks. There are three distinct "steps" until reaching the end, gaining altitude gradually. The final ascent is the longest and hardest, at above 3500 m.

From the top, one can easily access the Cerro Combo and its secret colouirs, or if conditions are spicy, heading down the same ascent route.

The start of the descent is at an exact 38° angle, so a ski cut is a must when trying the Enlace after heavy snowfall. The descent also has a distinct three steps, where one can safely rest and regroup.

One returns to the Valle Arenas by skiing down the Morado Valley. If early or late in the season, one may have trouble finding a snow bridge to cross the Morado river. We recommend crossing at the bottom of the run.

The Morado Valley is quite flat, so in deep powder, either pick up a lot of speed, or you can tour up to the Laguna del Morado and add another 1000 feet of turns.

While skiing down the valley, watch out for avalanches on the Eastearn aspects, especially after big storms or warm spring days. As usual, we recommend you to contact the local guides in the area, that's the best way to enjoy your exploration in the area.